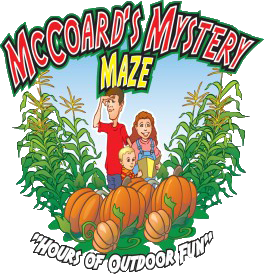 ABOUT McCOARD'S PROVO CORN MAZE
McCoard's Mystery Maze is sponsored by McCoard's Garden Center. This is the fifth year we have created a corn maze for the fall. The corn maze has three different mazes at varying levels of difficulty and length. The Kids maze is .3 miles long, our Adventurous maze is 1.4 miles and the Insane maze is 3.8 miles. The Corn Maze Admission allows you access to all three mazes.
We have designed the maze to be an interactive activity that makes a trip inside the maze more than just a haphazard stroll.
……………………
Spice it up! Come solve a crime scene investigation while in the maze! Guests choose one of the following options:
Option 1: The Farm Scene Tracks. Farmer Joe's pie is missing. We need you to find out who stole it. Six of the animals took off through the corn maze with the stolen pie. Navigate the corn maze to find all the tracks, and then match up the prints to all the animals that are guilty of the pie thievery.
Option 2: Farm Scene Monster Mystery. Monsters have invaded the farm and we need your help to rescue Boots the Dog and send the monsters back where they came from. Enter the maze and find the 6 hidden location maps. As each location, punch your card once for the monster and once for the hiding place. The remaining unpunched monster and hiding place reveal Boots' captor and location.
| Corn Maze Pricing | |
| --- | --- |
| Adults (10+) | $10.00 |
| Child (9 – 3) | $7.00 |
| 2 and under | FREE |
| Activity Ticket (good for one ride on the tractor barrel ride or 2 shots on the corn cannon) | $1.00 |
| Daytime Paintball (50 paintballs) | $3.00 |
| Daytime Paintball (100 paintballs) | $5.00 |
Zombie Combo
Includes admission to Corn Maze and admission to Zombie Paintball Patrol (one ride). All Ages.
$25.00
Zipline Combo
Includes admission to Corn Maze and admission to the Zipline (one ride). Ages 8+
$18.00
Ultimate Combo
Includes admission to Corn Maze, Zombie Paintball (one ride) and Zipline (one ride). Ages 8+
$30.00
---